TACO CATERING FOR TAILGATE PARTIES
You plan the tailgate.
we'll bring our A-Game.
For any sport, any team, and any fanbase, gear up for the big game without slacking on snacks. Condado Tacos catering puts the yum! in tailgate parties Regardless of who you're rooting for, there's one thing every fan has in common, filing up their plate with fresh, savory fanfare from Condado. Our team favorites are available for pickup within a few hours of ordering.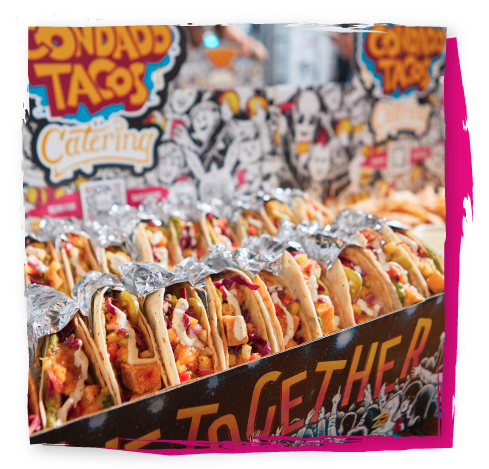 "Condado has the best food,
best presentation, and is
always on time"
Smooth and seamless delivery and setup services
Timely, Clear, and Thorough Communication
Fresh Ingredients, Clean Set up, and Craveable Flavor
Enough Yum for Everyone
Dietary choices & variety - Vegetarian? Vegan? Gluten Free? We've got you covered.

Gameday and tacos simply go hand in hand. The only thing you have to decide is what
menu items
you want on your roster. Kick up the flavor at your next tailgate party with our tailgate catering service.

If you're ready to place a tailgate order or learn more about our
catering services
, give Condado a shout. We'd be more than happy to be part of your celebration!
Others are raving

Cravable flavor does the talking - just ask our fans!


The BYO Nacho bar was amazing! The chicken, queso and the sauces are so yummy.


Always perfect... always on time... always fresh. Love the sauces.


A great selection of food options. Everyone enjoyed the variety and accommodations for vegetarians and vegans.


The menu offers a variety of vegetarian and vegan options, ensuring there's something for everyone.


Always on time and the best variety, a crowd pleaser each time!